Berlin Yakitori Riichi Open 2023
- Entry Fee and Number of Participants
60€ (55€ for DMJL members). Lunch, water and snacks are included in the registration fee.
please transfer the registration fee and include the participant's name in the payment reference befor 02. May 2023. The payment deadline has passed, and available spots will be allocated on a first-come, first-served basis:




- Rule and Scoring
This competition is using EMA Riichi Competition Rules. Scoring will be done with Pantheon Tournament System.
- Schedule
10. June 2023 (Sat.)
09:00 – 09:30 Registration
09:30 – 09:45 Opening Ceremony
09:45 – 11:15 1st Hanchan
11:15 – 11:30 Break
11:30 – 13:00 2nd Hanchan
13:00 – 14:00 Lunch
14:00 – 15:30 3rd Hanchan
15:30 – 15:45 Break
15:45 – 17:15 4th Hanchan

11. June 2023 (Sun.)
08:45 – 10:15 5th Hanchan
10:15 – 10:30 Break
10:30 – 12:00 6th Hanchan
12:00 – 13:00 Lunch
13:00 – 14:30 7th Hanchan
14:30 – 14:45 Break
14:45 – 16:15 8th Hanchan
16:30 – 17:00 Awards Ceremony
Registration
Registration remains open until 84 players are reached.
Registration is now closed.
EMA Observer
Olav Sommers
Cancellation Deadline
If you withdraw from the competition before 26th May, you will receive a full refund. After this time, no refunds will be available.
Seating
The first six hanchans will use a random seating and avoid competing with the same participants multiple times.
The seventh hanchan will use interval seating based on the rankings from the previous six hanchans. The interval will be 4 (ranking positions) per unit of 16 players. If there is a group with fewer than 16 people at the end, they will be arranged together with the last 16-person group with an interval of 5/6/7. For example, the seating plan for 21 tables is shown below: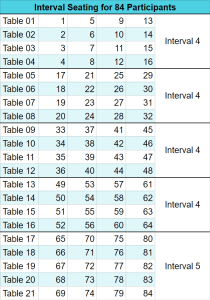 The eighth hanchan will use a seating based on the rankings from the previous seven hanchans. The first to fourth ranked players will sit at table 1, the fifth to eighth ranked players will sit at table 2, and so on.
Ranking
The final ranking is based on the total score of all 8 hanchans.
Pantheon System
To ensure the smooth running of the competition, please read the Pantheon Instruction.
Confirmed Participants
| No. | Name | Country | EMA-ID | Status |
| --- | --- | --- | --- | --- |
| 1 | Manuel K. | 🇩🇪GER | 05100166 | ✔ |
| 2 | Lanxin Z. | 🇩🇪GER | 05000007 | ✔ |
| 3 | Yufan D. | 🇩🇪GER | 05000004 | ✔ |
| 4 | Tian H. | 🇩🇪GER | 05000011 | ✔ |
| 5 | Sami K. | 🇩🇪GER | | ✔ |
| 6 | Joe-Calberson H. | 🇫🇷FRA | 04040048 | ✔ |
| 7 | Pei-Ching K. | 🇩🇪GER | | ✔ |
| 8 | Thomas K. | 🇩🇪GER | 05000001 | ✔ |
| 9 | Michele B. | 🇸🇪SWE | 09990142 | ✔ |
| 10 | Mateusz W. | 🇵🇱POL | 19000003 | ✔ |
| 11 | Martyna J. | 🇵🇱POL | 19000102 | ✔ |
| 12 | Zuokan H. | 🇩🇪GER | 05000003 | ✔ |
| 13 | Songqing L. | 🇩🇪GER | 05000002 | ✔ |
| 14 | Konrad G. | 🇵🇱POL | 19000149 | ✔ |
| 15 | Adrian F. | 🇵🇱POL | 19000120 | ✔ |
| 16 | Timur H. | 🇩🇪GER | 05100153 | ✔ |
| 17 | Dimphy v. | 🇳🇱NED | 08010168 | ✔ |
| 18 | Sheila H. | 🇩🇰DEN | 03000156 | ✔ |
| 19 | Jesper N. | 🇩🇰DEN | 03000176 | ✔ |
| 20 | Ian F. | 🇬🇧GBR | 11990005 | ✔ |
| 21 | Jasper G. | 🇸🇪SWE | 09990047 | ✔ |
| 22 | Anna Z. | 🇺🇦UKR | 21000014 | ✔ |
| 23 | Peter L. | 🇬🇧GBR | 11990004 | ✔ |
| 24 | John D. | 🇬🇧GBR | 11990016 | ✔ |
| 25 | Nadine K. | 🇩🇪GER | 05900002 | ✔ |
| 26 | Bartosz G. | 🇵🇱POL | 19000154 | ✔ |
| 27 | Ilka S. | 🇩🇪GER | 05100072 | ✔ |
| 28 | Wenjia Z. | 🇩🇪GER | | ✔ |
| 29 | Eigo K. | 🇩🇰DEN | 03000208 | ✔ |
| 30 | Henri M. | 🇫🇮FIN | 14990104 | ✔ |
| 31 | Serhii V. | 🇩🇪GER | 05100180 | ✔ |
| ╳ | Tran Thai L. | 🇩🇪GER | | ╳ |
| 32 | ELKE P. | 🇩🇪GER | 05100018 | ✔ |
| 33 | Heidi L. | 🇩🇪GER | 05100077 | ✔ |
| 34 | Heinz L. | 🇩🇪GER | 05100078 | ✔ |
| 35 | Stefanie D. | 🇩🇪GER | 05100031 | ✔ |
| 36 | ea A. | 🇫🇷FRA | 04040105 | ✔ |
| 37 | Olav S. | 🇳🇱NED | 08010526 | ✔ |
| 38 | Jacqueline O. | 🇳🇱NED | 08010727 | ✔ |
| 39 | Sandra v. | 🇳🇱NED | 08010731 | ✔ |
| 40 | Manuel T. | 🇫🇷FRA | 04160092 | ✔ |
| 41 | Shi Hua C. | 🇩🇰DEN | 03000140 | ✔ |
| 42 | Mykhailo N. | 🇺🇦UKR | 21000043 | ✔ |
| 43 | Anastasiia V. | 🇺🇦UKR | 21000067 | ✔ |
| 44 | Arnaud W. | 🇫🇷FRA | 04160112 | ✔ |
| 45 | Mariia Z. | 🇺🇦UKR | | ✔ |
| 46 | Sveta Y. | 🇺🇦UKR | 21000055 | ✔ |
| 47 | Maksym I. | 🇺🇦UKR | 21000015 | ✔ |
| 48 | Raúl R. | 🇪🇸ESP | 10990043 | ✔ |
| 49 | Benoit D. | 🇫🇷FRA | 04160103 | ✔ |
| 50 | Zhuo C. | 🇩🇪GER | | ✔ |
| 51 | Valentin C. | 🇫🇷FRA | 04310012 | ✔ |
| 52 | Alexandre D. | 🇫🇷FRA | 04530002 | ✔ |
| 53 | Matthieu F. | 🇫🇷FRA | 04530001 | ✔ |
| 54 | Gin K. | 🇩🇪GER | | ✔ |
| 55 | Miłosz M. | 🇵🇱POL | 19000077 | ✔ |
| 56 | Marek M. | 🇵🇱POL | 19000139 | ✔ |
| 57 | Jakub T. | 🇵🇱POL | 19000145 | ✔ |
| 58 | Eemil A. | 🇫🇮FIN | 14990099 | ✔ |
| 59 | Cecile B. | 🇫🇷FRA | 4320014 | ✔ |
| 60 | Paul B. | 🇩🇪GER | | ✔ |
| 61 | ITARU S. | 🇵🇱POL | 19000114 | ✔ |
| 62 | Olga I. | 🇵🇱POL | 19000087 | ✔ |
| 63 | Alex L. | 🇫🇷FRA | 04160110 | ✔ |
| 64 | Zageeth M. | 🇫🇷FRA | 04160108 | ✔ |
| 65 | Lena W. | 🇦🇹AUT | 01000053 | ✔ |
| 66 | Florian Z. | 🇦🇹AUT | 01000145 | ✔ |
| 67 | Jérémie P. | 🇫🇷FRA | 04160071 | ✔ |
| 68 | Leandro P. | 🇩🇪GER | | ✔ |
| 69 | Jiaxin C. | 🇩🇪GER | | ✔ |
| 70 | Jinghan S. | 🇩🇪GER | | ✔ |
| 71 | Essi V. | 🇫🇮FIN | 14990111 | ✔ |
| 72 | Zherui W. | 🇩🇪GER | | ✔ |
| 73 | Nathan G. | 🇧🇪BEL | 02010057 | ✔ |
| 74 | Chin-hui L. | 🇩🇪GER | | ✔ |
| 75 | Stéphane C. | 🇫🇷FRA | 04990103 | ✔ |
| ╳ | Ling H. | 🇩🇪GER | | ╳ |
| 76 | VITALII B. | 🇺🇦UKR | 21000005 | ✔ |
| ╳ | YULIIA O. | 🇺🇦UKR | 21000075 | ╳ |
| 77 | Zheming J. | 🇩🇪GER | 05000012 | ✔ |
| 78 | Jonas M. | 🇩🇪GER | | ✔ |
| 79 | Bao Zheng L. | 🇩🇰DEN | 03000252 | ✔ |
| 80 | Aleksei M. | 🇩🇪GER | | ✔ |
| 81 | Oleksii B. | 🇺🇦UKR | 21000068 | ✔ |
| 82 | Hiroshi K. | 🇩🇪GER | 05100181 | ✔ |
Waiting List
| No. | Name | Country | EMA-ID | Status |
| --- | --- | --- | --- | --- |